I offer a bespoke service for funeral tribute designs for loved ones.
Dealing with losing a loved one can be very traumatic. Let me take some of that stress away from you and create and arrange beautiful flower arrangements for your loved one.
I will deliver to your home address or the specified undertaker. I only cover the Nottinghamshire area for funeral work.
Please make an enquiry via the enquiry form with what it is you are looking for or contact me directly on 07855493537.
What we can provide
Prices: Hearts and wreaths on 10" are from £45 depending on flowers used.
Larger sizes are available and will be priced accordingly.
Coffin sprays can vary in size.
The average spray is around 4ft and start at £160 depending on flowers used.
Sizes start at 2ft and will be priced accordingly based on flowers used.
Tel Louise on 07855493537 for more information
Natural burial tributes available
This is a heart measuring 34" in length and 22" in width. It is made from all natural materials including birch as the base. Moss is used as a water supply for the flowers. No metal or plastic is used in these designs..
This particular design would cost £115
Wreaths and coffin sprays can be made using similar methods.
Heart
Heart filled with delicate roses.
£45
Wreath
14" Rose Wreath
£75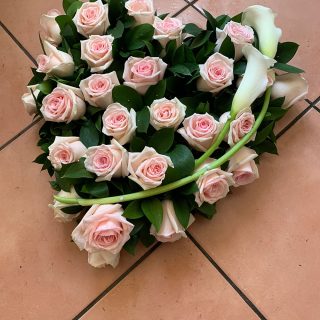 Heart
15 inch heart consisting of roses and callas.
Can be made smaller or larger, price will be according to size.
£95
Wreath
12 inch wreath consisting of roses, lisianthus, eryngium, panic in fountain
Can be made smaller or larger, price will be according to size.
£75
26" wreath. Designed using calla Lillies circling around the wreath to represent ever lasting love.
Price £100 for this size. You could go smaller or larger and the price would be calculated accordingly.
£100 for this size
This is a tied sheaf consisting of aspidistra leaves, calla Lillies, oriental Lillies, Lisianthus. Incorporating the aspidistra leaves in this design gives it a modern look.
£57.00
A coffin spray consisting of delphiniums, calla Lillies,oriental Lillies, freesia, roses.
This is a 14 inch wreath consisting of oriental Lillies, rose, wax flower, lisianthus
£69
This is an 8" posy pad
£40