I offer a variety of Bouquets.
My bouquets start at £20 and they are packaged in a Kraft box with water. I refrain from using cellophane wrap to be kinder to our planet.
All my bouquets are made by using seasonal cut flowers, therefore certain flowers may not be available for when you are ordering your bouquet.
These bouquets are to give you an example of colour combinations and prices.
For more information call Louise on 07855493537.
View some of my designs below
Letterbox flowers
Available for next day delivery. ( Must be ordered by 12pm for next day delivery).
The box's will only hold £15 and £20 worth of flowers.
Packaging £2.00
Next day delivery by Royal Mail £7.65.
They come complete with instructions and flowers food.
For more information ring Louise on 07855493537.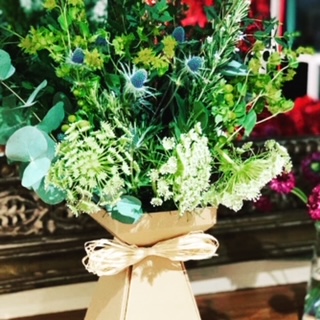 Foliage Bouquet
Consisting of:
Burpleurem, eryngium,Rosemary,eucalyptus cinerea, eucalyptus parvi, ammi visnaga.
This bouquet starts at £28
Flower Bouquet
£20 bouquets won't include Lillies or roses but will contain a nice selection of seasonal cut flowers.
This bouquet starts at £20